Our current auction
Roccafarm Sale 2017 | 07. until 12. April 2017
This is a traditional English auction.
Auction is pending.
ROCCAFARM SALE 2017
7. until 12. April 2017



Roccafarm Holsteins Rue des prés 11 1370 Saint-Jean-Geest (Jodoigne) | Belgium
07 April Open day @ Roccafarm Holsteins and sale barn open to inspect the sale animals
TAG + SALE 1) 07 April possible to inspect the sale animals. Pictures available on the website.
2) Sale by TAG + system through www.roccafarmsale.com from 7 until 12 April.
3) Online bidding by higher offer until April the 12th or buy directly for the 'BUY NOW' price


CONSIGN
Click here to consign your lots for this sale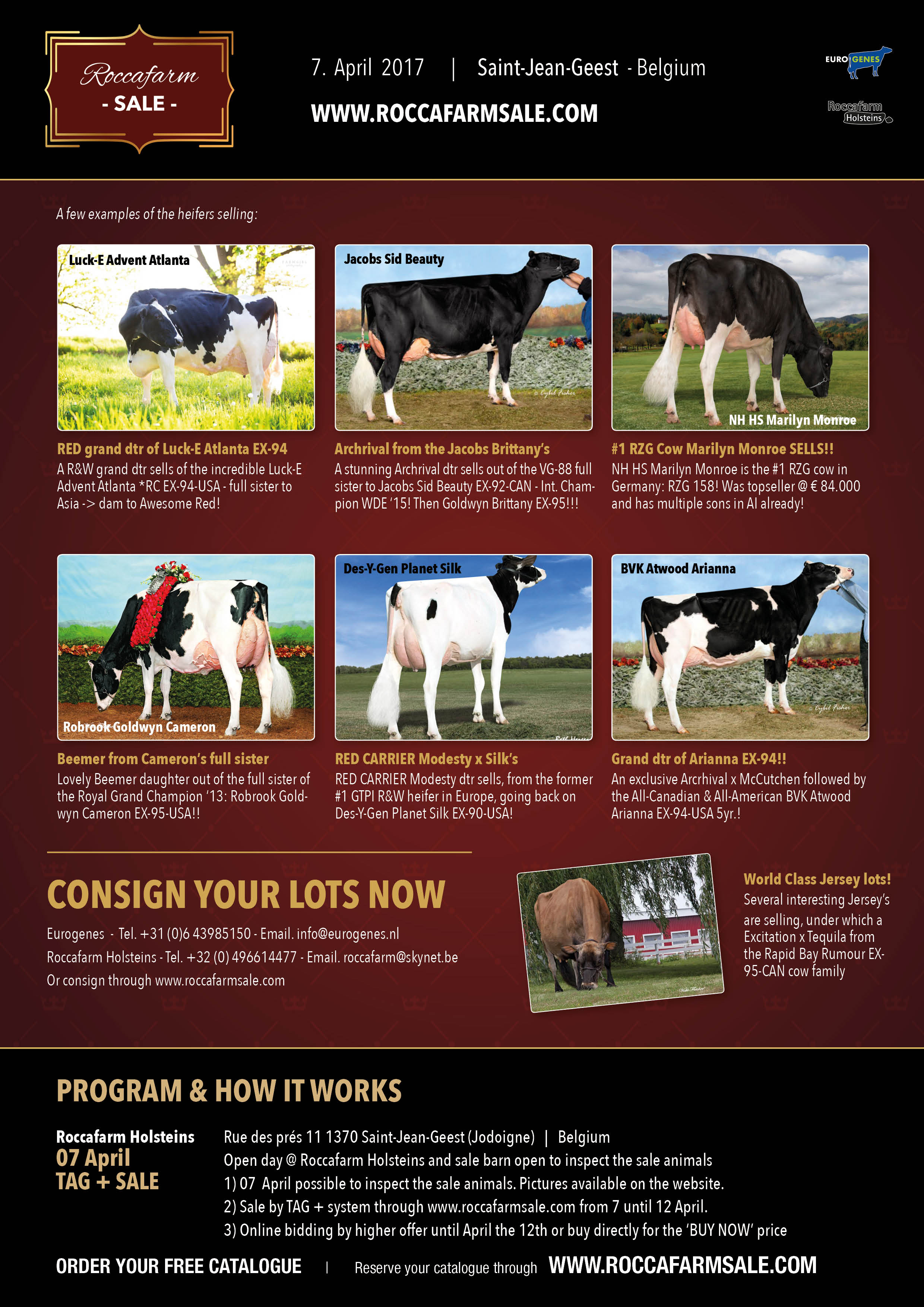 Welcome to Rocca Farm Sale
The Roccafarm Open House Sale is the sale for the celebration of the completely new barn and set-up of ROCCAFARM HOLSTEINS. A great new barn has been build with robot-milking system.

PROGRAM
DATE Friday, April the 5th 2013 : Open Day
TIME From 10am to 7 PM
PLACE Visit the new farm of Roccafarm Holsteins & view the sale animals. 8pm BBQ and breeders party.
TOUR A Tour will be organized by Eurogenes to the Roccafarm Open House Sale and the Nuit de La Holsteins Show.

SALE METHOD
1. ALL ANIMALS WILL BE SHOWN ON THE ROCCAFARM OPEN HOUSE DAY - April the 5th 2013
2. SALE RUNS THROUGH WWW.ROCCAFARMSALE.COM
3. ONLINE BIDDING BY HIGHER OFFER UNTIL APRIL THE 8TH, OR BUY DIRECTLY THROUGH THE BUY NOW BUTTON
4. ONLINE BIDDING STOPS ON APRIIL THE 8th - SEE HOW IT WORKS

ONLINE CATALOGUE